TECHSPEC is a unique program for IT fellows to embrace challenges to excel your career. Embarking TECHSPEC, you will work in cutting edge technology projects that bring values to business. In an essence of joining FE CREDIT, you will be given the scope to seize every opportunity and acquire specific competencies you need to succeed.
Why TECHSPEC?

CAREER DEVELOPMENT
This year, we provide you with 4 domains to have a better focus on your career development. Be aware that you will have to choose only 1 of these

Program Curriculum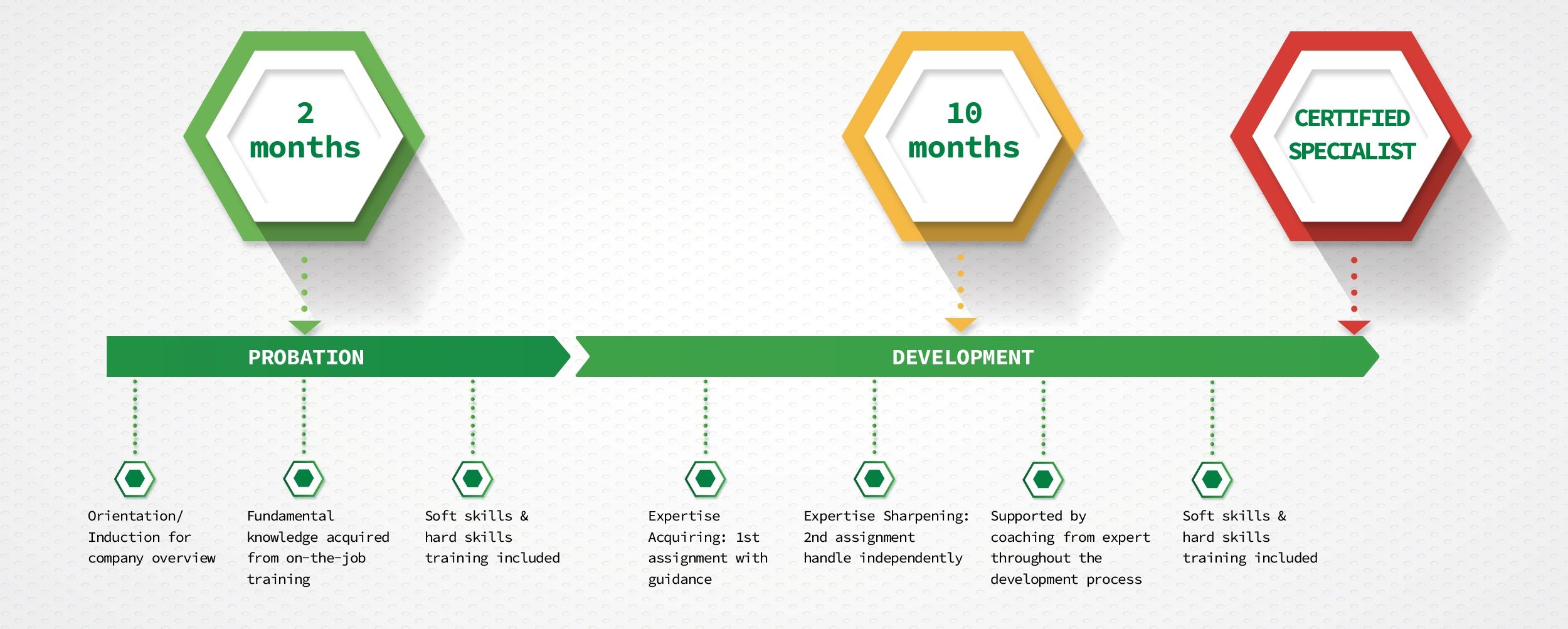 REQUIREMENTS
University degree holder, preferably in IT areas
0 - 2 years of working experience in IT
Can start working from April 2020
Good analytical & problem solving skills

Good communication skill
Ability to work under high pressure
Fluent in Vietnamese and English
Software Development

Business Analysis

Project Management

Quality Assurance

Possess knowledge and experience in software development
Skills in the programming technologies: .Net, ASP.Net MVC, C#
Database skills (Oracle, MS SQL, etc.)
Knowledge in OPP, design patterns
Good understanding of Web Services protocols such as REST, SOAP, and API design for extensibility and portability
HTML, CSS skills
Javascript skills

BA overall skills (gather requirement, create technical documents)
Experience to work with some popular databases (MySQL/Oracle/MSSQL) including querying data, writing functions/store procedures, etc.
Flowcharting techniques such as BPMN
Experience to perform SIT/UAT to ensure the quality of the project/system
Documentation skills
Having any Business Analyst Certificate (CCBC/CBAP) or Product Owner certificate (PSPO I/PSPO II/CSPO) would be advantage

Experience in project of software developments or other IT projects
Experience in banking/consumer finance would be advantage
Ability to work in a team environment
Project management skills (PMBok, Agile, Scrum)
Basic SQL, XML
Attention to detail and multi-tasking skills
Resource management
Strong Microsoft Office skills

Experience in Software Testing
Quality inspection, testing experience
Experience with implementation of corrective action programs
Experience in banking/consumer finance would be advantage
Strong computer skills including Microsoft Office
Knowledge of tools, concepts and methodologies of QA would be benefit
SELECTION PROCESS

The application for TECHSPEC 2020 has been closed. Keep following our Facebook page or visit our career site for job opportunity updates.